Alright, update time!
Sorry for not updating this sooner. I was very busy with school work and actually kind of forgot about the thread!
So anyway let's get back to it
The side plate were drilled some cutting oil was used to cool the bit. Also a pilot hole was drilled for a larger bit.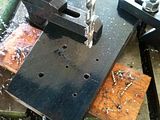 The larger bit (25mm) was used to make a hole for the bearings that will support the drive screws.
Now the basic frame is laid out ready to be tapped where necessary for the connectors (more on that in a bit).
The extrusion has predrilled holes that are the exact size for a M8 thread.
The connectors are used to, well connect the pieces together! An M8 button head bolt is used to tighten the pieces to form a quick, simple and strong joint.
The connector assembly slides into the slots in the extrusion and is tightened with a through hole that is drilled where required.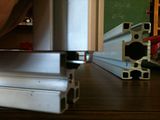 Now to bolt other things to the basic frame these T nuts are used. Again they slot into the extrusion and a bolt is used to fasten the other components to it.
Once all of the T nuts are in place the whole frame can be squared and tightened.
When doing this make sure all of the T nuts are in place BEFORE tightening and squaring. I had to disassemble the frame multiple time because I forgot a nut here and there!
Now that the frame is complete I had to grind the welds off the side plates so I could separate and bolt them on!
That it for now. I'll be back soon
PS. This thread is mirrored on CNCzone