heathwithnoteeth wrote:
looks good buddy
begee08 wrote:
Wow! top stuff mate!
Big Giant Head wrote:
Excellent! Very keen to see this come together!
Thanks guys!
So after the welds were grinded, the plates were separated and test bolted to the frame.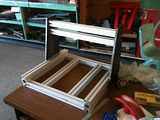 Now the next step was to fabricate the adapter plates that would allow me to attach the linear rails to the extrusions.
Now to prevent rust the parts were primed and painted to a grey colour that is called "machinery grey" so I thought it would suit well
Now the side plates could be square and mounted for real!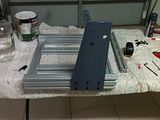 Here you can see the rails are mounted to the main body of the machine.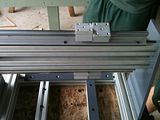 The Z axis componets were all made using the drill press. I had made engineering drawings of each part so that I could make it quickly and accurately.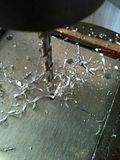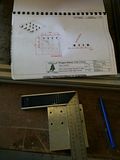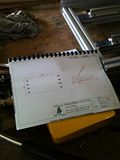 As you all know doing things by hand it is expected to have a few minor accuracy issues. These hole are supposed to line up directly with the tapped holes in the bearings but are off slightly. However this isn't a huge problem as I can just run a larger drill bit through and give the bolt some extra room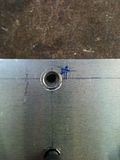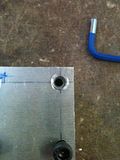 After this we were all good and it all lined up. so i countersunk them for the bolts.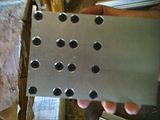 As I was very short on time to complete this project I couldn't wait for the shaft collars to arrive so i made some up on the lathe!
I have never used a lathe before and again this provided a great learning opportunity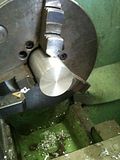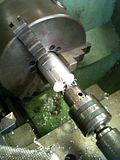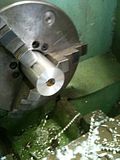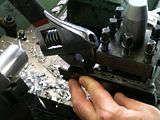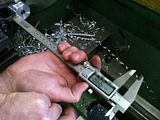 Now I had completed all of the individual components for the CNC machine it is just a matter of bolting them up!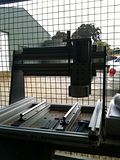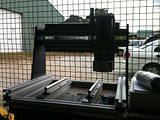 I got a Chinese industrial spindle off ebay and mounted it. I initially was thinking of using a cheap trim router but the noise they made was way to much. This spindle is so quiet it is amazing!
So now it is basically complete! Just a few small things here and there to adjust
I got a really nice trolley from eBay to put the machine on and I think it looks pretty good!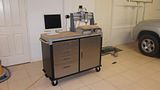 So the completed CNC Machine: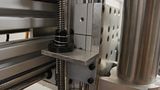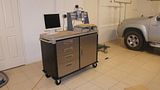 I am really pleased with the way it has turned out and my teacher is pretty impressed too!
Praneet